An additional component of the Obama Scholars Program is the Obama Fellows. Each year, rising seniors at Occidental College are chosen as Obama Fellows, based on their achievements at Oxy both inside and outside the classroom, faculty recommendations and their ability to support the mission of the Obama Scholars program—to contribute to the public good.
The purpose of Obama Fellows is to broaden the impact of the Obama Scholars program, creating a larger cohort of students who are its beneficiaries. Like Scholars, Obama Fellows have access to the distinguished members of the Obama Scholars Advisory Council. Fellows also are eligible for a $10,000 post-graduate fellowship to fund graduate study or support other endeavors that promote the public good.
Current Fellows
Mary Ambriz, Class of 2022
Mary is a Critical Theory & Social Justice major and first-generation student from Fontana, Calif. At Oxy, she has made impactful strides to build spaces and networks for marginalized students. As a mentor to students of color and as a community organizer, Mary hopes to introduce others to opportunities and empower them to accomplish their goals.
Angelina Lee, Class of 2022
Angelina is a media arts and culture major from Naperville, Ill., who understands the power of positivity. She plans to use her media-making skills to share affirming human narratives as a means to catalyze environmental activism and create a sustainable ecosystem—an endeavor she pursues in myriad ways at Oxy.
Alejo Maggini, Class of 2022
Alejo arrived at Oxy from Argentina intent on using education as a tool for connection, collaboration and community. Through leading English language workshops for Oxy's Latino staff, promoting restorative justice practices and helping to find Oxy's 16th President, the diplomacy and world affairs and economics double major always strives to find new opportunities to promote the public good.
Micah Wilson, Class of 2022
Micah was inspired to improve access to education for low-income, underrepresented students like himself from a young age. As an economics and politics double major from Lincoln, Neb., the student-athlete transfer aims to study economic mobility and diminish gaps in education differences.
Past Fellows
Ima Odong, Class of 2021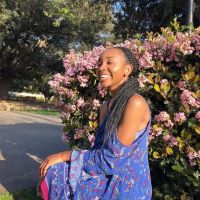 We are excited to announce Ima Odong '21 as our newest Obama Fellow. Ima is an outstanding student and leader in the Oxy community. She is pursuing an independent pattern of study in critical liberation studies and praxis for her major. She is a prolific writer and art educator on and off campus, a research assistant with Politics Professor Regina Freer, and an Orientation leader. Ima recently studied post-genocide restoration and peacebuilding in Rwanda and hopes to "use the funding from the Obama Fellowship to return and study the intersection of performing arts and grassroots movement-building."
Jagmit Dhami, Class of 2020
Jagmit is a politic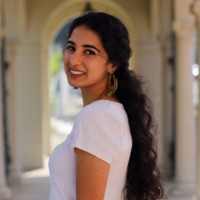 s major from Ferndale, Wash. and the junior class senator for Associated Students of Occidental College and academic liaison for the Diversity & Equity Board. She also serves as co-coordinator for the Center for Community Based Learning's Education in Action program, president of South Asian Students Association, and Orientation leader. She has interned with Whatcom County Councilman Satpal Sidhu in Washington state, working to raise the voices and history of marginalized communities, and with Asian Counseling and Referral Services in Seattle, where she focused on making the voting process more accessible to immigrant communities. After graduation she plans to pursue graduate studies in law and public administration, with the ultimate goal of serving as a city councilwoman or mayor.
Aracely Ruvalcaba, Class of 2020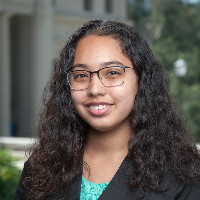 Aracely is a diplomacy and world affairs major from Los Angeles, has worked as a resident adviser, as an adviser to Occidental's Neighborhood Partnership Program, and as a campus and community organizer for the Office of Community Engagement. She also has been active with Oxy Students United Against Gentrification, taught undocumented immigrants through Comparte, a student club, and helped create an herbal garden on campus. As an intern with Mil Mujeres she edited U-Visa applications to submit to Homeland Security Department, acted as office manager and helped to foster positive relationships with Los Angeles consulates. After graduate school she plans to work within a non-profit legal aid and civil rights organization.
Kayla Williams, Class of 2020
Kayla is an urban and environmental policy major from the Bronx and serves as co-coordinator for the Center for Community Based Learning (CCBL)'s Education in Action program. Previously she has served as CCBL outreach coordinator, chair of Black History Month for the Occidental's Black Student Alliance, club liaison for the Diversity & Equity Board, and a member of Orientation leadership. She has interned at Innercity Struggle of Los Angeles, where she trained the nonprofit's staff in restorative justice practices, and at Esperanza Community Housing Corp. She also has tutored homeless youth through School on Wheels. She plans to pursue a master's in education and become a teacher.
Cléo Charpantier, Class of 2019
Cléo is a philosophy and economics double major from San Francisco, where she grew up in a bicultural French-American home and attended a French bilingual school. While at Occidental, she has been active in a wide range of co-curricular activities on and off campus. Cléo has served as a resident advisor in student residence halls for the past two years and as a peer subject advisor for the Center for Digital Liberal Arts, mentoring other students through the writing process. She also has worked as a backstage technician for the Theater Department. Cléo hosts her own show GirlTalk! on KOXY, the student radio station, and is founder and president of P.I.C.S, a student club that seeks to engage Oxy student photographers with the local community. Most recently, she studied abroad in Copenhagen, researching the works of Danish philosopher Kierkegaard. After graduating in the spring, Cléo plans on pursuing a master's in philosophy.
Carlos Gonzalez, Class of 2019
Carlos, a Spanish major from Los Angeles, has used his fluent language skills to serve both Occidental and the surrounding community. As a President's Fellow at Occidental, Carlos designed an immigration resources packet for the College community and helped conduct "Know Your Rights" workshops in conjunction with local nonprofits. Through Oxy's Center for Community Based Learning, he has worked with Spanish Department faculty to facilitate the Community Translation Practicum, which translated documents, presentations and pamphlets from English to Spanish for the Los Angeles County Department of Mental Health and a local charter school. Carlos also has volunteered for Bet Tzedek Legal Services, providing English-to-Spanish oral and written translations for its public conservatorship clinic sessions at the Los Angeles County Law Library. He is currently applying for post-graduate fellowships related to his pursuit of the public good.
Alison Salazar, Class of 2019
Alison, an urban and environmental policy major from Pico Rivera, has taken full advantage of Oxy's location in Los Angeles through a series of internships. She interned at the Coalition for Humane Immigration Rights (headed by Angelica Salas '93) and the Mexican American Legal Defense and Educational Fund, focusing on immigration issues. She also interned at the East Los Angeles Community Corporation, where she edited and helped present leadership training sessions for community members. She also has conducted research for a study published in the International Journal of Environmental Research and Public Health that assessed the negative impacts of urban oil drilling on South Los Angeles residents. Alison hosts a radio show on KOXY.
Cameron Peters, Class of 2018
Cameron grew up in a military family, and he continued the tradition by joining the Army in 2003. After basic training, Cameron was deployed to Afghanistan and served for 13 months. Upon returning home, Cameron was assigned to Ft. McPherson in Atlanta to work in military intelligence. In 2013, he decided it was time to leave the military and go to college, as he believed the best way to serve his country was with an education. After attending Pasadena City College, Cameron transferred to Oxy.
Cameron chose urban & environmental policy as his major to accommodate his desire to be out in the community, be more hands on and, in his words, "create real change." Outside of the classroom, he has been fully engaged with the local community, notably interning for Service Employees International Union, which represents public service workers in Southern California. He plans to continue this type of work after graduation from Oxy — with an aspiration to help veterans, particularly minority veterans, in the future. He finds inspiration in President Obama's example: "He showed a path to African American males that they normally do not, or cannot, take," he says. "I'd love to meet him someday."