Valerie Jarrett
On February 11, 2021 Occidental College President Harry J. Elam, Jr. welcomed Obama Foundation President Valerie Jarrett to discuss her time with the Obama Administration, her own commitment to service, and her advice to students on how to create meaningful change.
Ms. Jarrett was the Senior Advisor to President Barack Obama from 2009-2017, making her the longest serving senior advisor to a president in history. She oversaw the Offices of Public Engagement and Intergovernmental Affairs and Chaired the White House Council on Women and Girls. Ms. Jarrett is also a Senior Distinguished Fellow at The University of Chicago Law School. She is the author of the New York Times bestselling book Finding My Voice: My Journey to the West Wing and the Path Forward, published in April 2019. She serves as Board Chairman of Civic Nation, Co-Chair of The United State of Women and senior advisor to Attn. Jarrett also serves on the boards of Walgreens Boot Alliance, Inc., Lyft, Inc., 2U, Inc., Ariel Investments, Time'sUp, The John F. Kennedy Center for Performing Arts, The Innocence Project, Sesame Street Workshop, and the Economic Club of Chicago.
Ms. Jarrett has a background in both the public and private sectors. She served as the Chief Executive Officer of The Habitat Company in Chicago, the Commissioner of Planning and Development for the city of Chicago and Deputy Chief of Staff for Chicago Mayor Richard M. Daley. She also served as the director of numerous corporate and not-for-profit boards including leadership roles as Chairman of the Board of the Chicago Stock Exchange, Chairman of the University of Chicago Medical Center Board of Trustees, Vice Chairman of the University of Chicago Board of Trustees, Director of the Federal Reserve Bank of Chicago and Chair of Chicago Transit Board. Ms. Jarrett has also received numerous awards and honorary degrees, including TIME's "100 Most Influential People" Award.
Jarrett received her B.A. from Stanford University in 1978 and her J.D. from the University of Michigan Law School in 1981.
They were be joined by Obama Scholars Advisory Council Co-chair Sara El-Amine '07 , a progressive senior strategist who was one of the architects of the Obama grassroots movement. She is currently Head of Community Engagement at Lyft, where she oversees driver, passenger, and local non-profit engagement for the company.
This event was free and open to the Occidental community.
"How Art Inspires Social Change"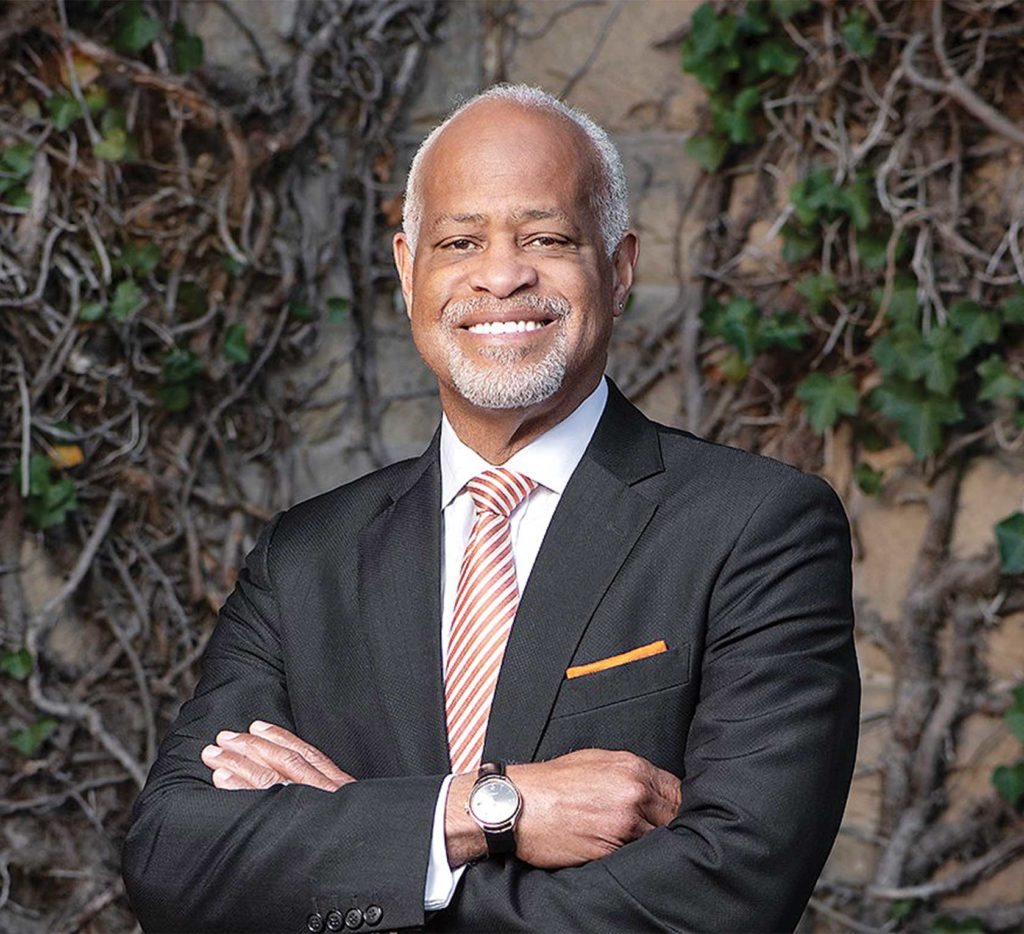 Occidental College President and American theater scholar Harry J. Elam, Jr. moderated a panel of distinguished artists and advocates to discuss "How Art Inspires Social Change" on October 24 as part of the Barack Obama Scholars Program Speaker Series.
The webinar, which can be seen here, featured Bob Johnson '77, Los Angeles entertainment attorney and producer; actor, director and writer Roger Guenveur Smith '77; and Meldia Yesayan, director of Oxy Arts, Occidental's multi-disciplinary arts initiative. 
Elam is one of the foremost scholars of American theater generally and African American theater specifically, and has had an award-winning career as a professional theater director for more than 25 years. A graduate of Harvard, he earned his doctorate in the dramatic arts at UC Berkeley and is the author and co-editor of seven books, including the award-winning The Past as Present in the Drama of August Wilson (University of Michigan Press, 2006). He is a member of the College of Fellows of the American Theatre and the American Academy of Arts and Sciences.
Bob "BJ" Johnson is a Los Angeles-based entertainment attorney and civic activist. A former senior music executive with Atlantic Records, his law practice includes representation of prominent musicians, film and television talent, athletes, and visual artists. In addition to practicing law, he is a Peabody Award-winning film producer with Spike Lee. A political science major at Occidental, he served as student body president and co-editor-in-chief of The Occidental, the student newspaper. Johnson is a graduate of UCLA School of Law and UCLA's Anderson School of Management.
Award-winning actor, playwright and director Roger Guenveur Smith's first play was his senior honors project in American Studies at Oxy, titled "An Evening With Frederick Douglass." His Obie-winning solo show "A Huey P. Newton Story" was turned into a Peabody-winning telefilm by Spike Lee. Smith's recent screen credits have been inspired by such figures as Rosa Parks (Behind the Movement) and Nat Turner (The Birth of a Nation). He and Lee were honored at the 2018 Cannes Film Festival for their eclectic body of work, which includes the classic Do The Right Thing, for which Smith created the stuttering hero "Smiley."
As director of Oxy Arts, Yesayan oversees programming and development, including organizing all exhibitions and programs at the Oxy Arts Center, facilitating visiting artist residencies such as the Wanlass Artist-in-Residence program, initiating cross-departmental and interdisciplinary collaborations, and creating opportunities for student-curated events. She is also responsible for developing meaningful relationships with Los Angeles arts communities, including partnerships with local arts agencies, artists and institutions. She received a JD and BA from UCLA and a certificate in Art Appraisal Studies from NYU.
Joe Solmonese
Joe Solmonese is CEO of the 2020 Democratic National Convention Committee and former president of the Human Rights Campaign (HRC). HRC played a key role in lobbying for the repeal of 'Don't Ask, Don't Tell,' the U.S. military policy that banned openly gay, bisexual and lesbian personnel that was signed into law in 2010 by President Barack Obama '83.
February 27, 2020, 3:30 p.m.
Prior to his March 2019 appointment as convention CEO, Solmonese served as a partner at the corporate consulting firm of Gavin/Solmonese. He leads the firm's corporate and nonprofit engagement practice located in New York and Washington, D.C. and is a member of the Obama Scholars Advisory Council at Occidental.
Before forming Gavin/Solmonese, he served as president of the HRC and as CEO of EMILY's List – one of the nation's largest political action committees. His work at HRC included championing the discriminatory Federal Marriage Amendment defeat in 2006, passage of marriage equality laws in eight states, the repeal of "Don't Ask, Don't Tell," and passage of the Matthew Shepard and James Byrd, Jr. Hate Crimes Prevention Act.
This event was free and open to the Occidental community, in addition to being livestreamed.
Ben Rhodes
Ben Rhodes is former deputy national security advisor to President Barack Obama '83 and a leading voice on politics and foreign affairs. He is a regular contributor to NBC News and MSNBC.
April 18, 2019, 4:30 p.m.
Rhodes spoke about his new memoir The World As It Is - a revealing behind-the-scenes account of Obama's presidency—and how idealism can confront harsh reality and still survive. Rhodes served as deputy national security advisor to President Barack Obama for eight years, overseeing the administration's national security communications, public diplomacy, global engagement programming and speechwriting.
Prior to joining the Obama administration, Rhodes served as a senior speechwriter and foreign policy advisor to the Obama campaign. Before joining then–Senator Obama's campaign, he worked for former Rep. Lee Hamilton from 2002 to 2007. He was the co-author, with Thomas Kean and Lee Hamilton, of Without Precedent: The Inside Story of the 9/11 Commission. A native New Yorker, Rhodes has a BA from Rice University and an MFA from New York University.
This event was free and open to the Occidental community. It was livestreamed via oxy.edu/livestream. 
David Plouffe
David Plouffe is former campaign manager and White House Senior Advisor to President Barack Obama '83 and the current policy and advocacy chief for The Chan Zuckerberg Initiative. 
October 19, 2018, 2 p.m.
Plouffe's talk "High Stakes: Breaking Down the 2018 Midterm Elections" examined the possible outcomes of the first midterm election of the Trump presidency, with control of the House and even the Senate in play. Plouffe leads the Chan Zuckerberg Initiative's policy and advocacy team. For more than 25 years, David has developed strategies to bring people together around common causes. He has held senior positions in government and the private sector including his role as manager of Barack Obama's 2008 presidential campaign.
David also served as White House Senior Advisor to President Obama and Chief Advisor at Uber Technologies, Inc, where he remains a member of the Board of Directors. He is a veteran of several congressional, gubernatorial and presidential campaigns and served as Executive Director of the Democratic Congressional Campaign Committee and senior staff member to Democratic leadership in the U.S. House of Representatives. He holds a BA from the University of Delaware and is the author of of the New York Times bestseller, The Audacity to Win.
This event was free and open to the Occidental community. It was livestreamed via oxy.edu/livestream.