Image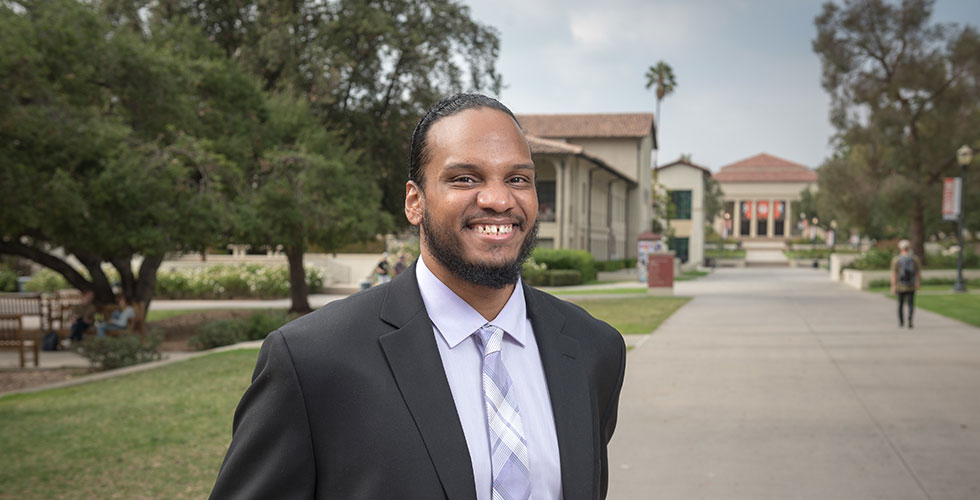 As its staunchest advocates will attest, the Barack Obama Scholars Program expands the legacy of the nation's 44th president, builds the bench for public service and civic engagement, and broadens access to an Oxy education.
Occidental Magazine | Winter 2018
It's hard to argue that the near future—and probably the future that lurks just up the road—will require great things from the next generation of leaders. For the world at large, 2018 brings more than its share of uncertainty. But, as Louis Pasteur observed more than 150 years ago, "Fortune favors the prepared mind."
For 130 years now, Occidental has been preparing minds to do great things with the vagaries of fortune. This fall, the College takes that mission one step further with the launch of the Barack Obama Scholars Program, a comprehensive, merit-based scholarship program designed to identify and empower exceptional students committed to the public good.
"I'm so humbled by the Barack Obama Scholars Program at Oxy, and proud of its mission to identify promising young people from all backgrounds with an emphasis on first-generation students, our veterans, and community college transfers," Obama wrote when the program was announced September 27. "Not only to give them access to higher education, but to train the next generation of leaders and active citizens, and fill them with the conviction that they too can change the world."
Through mid-December, Occidental had raised nearly $8.2 million for the Obama Scholars Program from more than 90 donors—a group that includes alumni, students, parents, faculty, foundations, and friends of the College. Among those in the last category are Jane and Glenn Hickerson,
left
, of San Francisco. Although Glenn himself graduated from Claremont McKenna College in 1959, his mother and her sisters all attended Oxy.
"Jane and I both have great respect for President Obama—he was really an inspiration to young people," says Glenn, president of Hickerson Associates, a marketing and management consulting firm. "We think highly of President Jonathan Veitch," he adds, "and were delighted to learn that Oxy was honoring Obama this way."
Obama's path to public service arguably began at Occidental on the plaza outside the Arthur G. Coons Administrative Center, where he gave his first public political speech during an anti-apartheid rally on Feb. 18, 1981. "My years at Occidental sparked my interest in social and political causes, and filled me with the idea that my voice could make a difference," he wrote in 2017.
As anticipation builds toward the selection of the first two Obama Scholars for next fall, writer Peter Gilstrap spoke with some of the earliest advocates for the program—alumni, parents, and friends of Oxy who are among the more than two dozen members of the program's advisory council. In the words of Oxy parents Ann and Bruce Blume, "With a world-class education and unparalleled opportunities to truly serve the public, there can be thousands of Barack Obamas who come through Oxy."
Why did you get involved with the Obama Scholars Program?
Jeh Johnson P'17: In January 2015, as I sat on the floor of the House of Representatives, I saw President Obama give a State of the Union address, much of which was devoted to giving young people the opportunity for an education. I'm very pleased that Occidental has decided to take up that cause, and with President Obama's support and endorsement fulfill a big part of his dream.
( Denise Campbell Bauer '86 left, with Obama in 2014): It was an easy decision to join the advisory board. This program encompasses so many things I care deeply about: It expands the legacy of President Obama, it broadens and diversifies access to higher education, it builds the bench for public service and civic engagement, and it strengthens Oxy.
Ann and Bruce Blume P'14: Our inspiration for getting involved with the program is similar to the inspiration that got us involved with Barack Obama's campaign when he first decided to run for president. We are deeply inspired by those who want to make a positive difference in our country and who have the values, skills, education, and commitment to the broader community to make it happen. This program is dedicated to helping young people discover and develop that same blend of attributes.
Hector De La Torre '89: This scholarship program is a wonderful legacy for the president. We could have done a statue or a building or some such static thing, but we decided that scholarships would be a very good living legacy.
Having a president of the United States as an alumnus is incredibly important in terms of the visibility of the College, and in terms of reflecting what Occidental can do for students. This is a way to really emphasize and cement that connection.
Jonathan Veitch attracted me to the program. I have a son that graduated from Oxy [Jeh C. Johnson Jr. '17, a mathematics major, Susan DiMarco P'17:right, with sister Natalie, father Jeh Johnson, and DiMarco], and when he was a freshman, President Veitch approached me with this idea. We all had a lot of admiration and affection for this president, so I was happy to help.
What will the Obama Scholars Program mean for Oxy?
Bauer: While this program will no doubt bring additional recognition to Oxy, I think the most significant impact will come from the Obama Scholars themselves. These students will bring with them their experiences, perspectives, intellects, and talent. While at Oxy, they will certainly enrich the discourse in their classes, and on campus more broadly.
One of the things I value most about my time at Occidental was the opportunity to get to know people from all over the country and the world. I learned to almost reflexively look for additional facts and perspectives, something that has served me well over the years.
( The Blumesleft, with son Jacob '14 at his graduation): Occidental's association with President Obama is a blessing and strength—and this program is a truly tangible and visible way to create a living legacy through future generations of Oxy students. The students' experiences in this program will enrich their lives and the life of the College. Those experiences will take Oxy to new places and people, and, we hope, inspire others to say, "I want to do that!"
DiMarco: The program means that Occidental can inspire a generation of students to do good. The president was inspirational to a generation of young people, so a scholarship with his name on it can be an inspiration for Occidental College as it's seeking to find those students who want to come to this campus.
Johnson: I think what it means for Oxy is that the school will be a place to realize dreams. The school will be a place to enable young people—who would not have otherwise had an opportunity—to go into public service and to pursue great things.
What does the idea of "empowering the next generation of leaders to actively pursue the public good" mean to you?
The Blumes: The idea of the "public good" is so profound and important. Now more than ever, it is a powerful idea that deserves support and protection. Frankly, in too many ways, we are seeing faith eroded in the very concept of a broader "public good" with the denigration of critical institutions (like a free press, ethical government, even democracy itself) and the degradation of our public life.
We are hopeful that Oxy students remain committed to the powerful ideals that have been a bedrock for our country, and, we believe, were exemplified by the namesake of this program. There is nothing more important than educating and empowering those whose mission is to make good on the promise of America and the things that make it great.
De La Torre (left): There are many ways you can pursue the public good. You don't have to be an elected official. That's very important too, that this isn't just about public policy. It can be premed, it could be visual arts, it could be economics or physics. There are so many ways to do public service and to move the needle for our society, and for international students to move the needle in their country of origin.
Scholarship funding at the College is a major priority for Jonathan and for the Board of Trustees, so these are wonderful opportunities for excellent students, regardless of their academic pursuit, to have that support from the school and to help shape them to go out into the world and be leaders in their respective fields.
Bauer: One of the most exciting things about the Obama Scholars Program is that its positive impact won't end when the students graduate. In fact, that will be just the beginning. They will each be, as Robert Kennedy said, "a tiny ripple of hope." What a wonderful legacy for all involved. 
For more information on the Barack Obama Scholars Program at Occidental College, visit obamascholars.oxy.edu.